Welcome
We all have something in our life we want to accomplish. For me it's spreading the art and joy of toilet training babies from birth.
Toileting is a basic need for all humans, including babies. We know puppies and kittens can be toilet trained from birth but aren't sure why people believe that babies can't be.
Prior to the 1960s children were toilet trained by age 2. With disposable nappies, being toilet trained is now on average by age 3 and older.
Did you know?
A child using 6 nappies a day for a year, will use over 2,100 nappies
1 tree is required to make approximately 1,300 disposable nappies and
In 3 years purely from 1 child using nappies as toilets: 5 trees would have been harvested and 2.5 tonnes of waste created
My mother toilet trained my children from birth without using disposable nappies. Her technique involved holding infants to toilet safely several times a day. It required skill and patience. I thought to myself: if only we had a special device to hold our babies whilst they were being toileted! So I came up with the idea of a Ecobabyloo – I made prototypes, researched and trialled the Ecobabyloo with Australian families.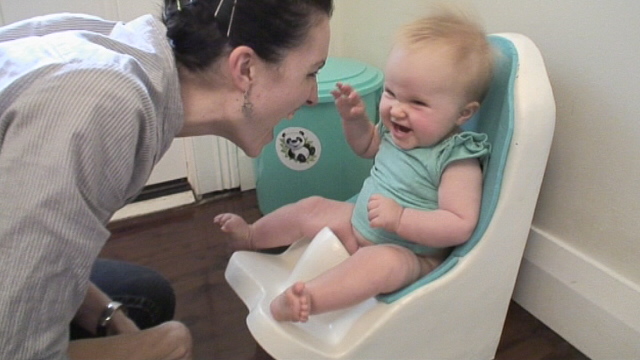 In my trials, babies aged 7 weeks to 3 months old happily used the Ecobabyloo, myth-busting older toilet training ages. Many of us don't realise that we should start toilet training babies from birth and how good it be for their health.
I am currently educating as many parents and carers as I can about how toilet training can reduce disposable nappy use and improve infant health, but I want to make toilet training easy and accessible to everyone globally, as the hands that rock the cradles nurture our world.
All it takes is your support of the Ecobabyloo - As children learn what they live.
Thank you! Lee Lee